For now, it is "The Blue Hill Horror."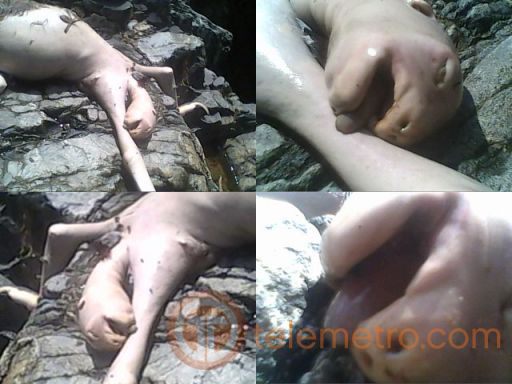 "Shocking photographs of 'something' that has washed ashore in Panama is sending chills up the spines of Central American readers for a creature rivaling the Montauk Monster has invaded their land."
Well, that's a caption I created of what I imagine some editors are feeling they would like to have written about the photos published this week in Panama.
Instead, here is Cryptomundo correspondent Harris Eisenberg and my rough translation of the text accompanying the images above:
"The finding of a strange Blue Hill creature has awaked controversial among the population, because while some assert that it is a being of another planet, others think simply that it is an animal. Four adolescents between 14 and 16 years of age, discovered it in the Blue Hill Spurt, this past Saturday [September 12, 2009], while they were amusing themselves in the area. According to what they related, one of them suddenly saw the creature leave a cave located behind the water spurt. When it saw their appearance, it began to climb on rocks towards them; one [of the teens] was scared, so he began to stone it and to throw sticks at it, causing it to be killed; then they threw it into the water and they fled."
Telemetro, September 15, 2009.. (Smoother translation text will be welcomed and used to replace the one above.)
It looks like another mundane animal washed ashore, and a story has been created to explain it.
But what species of animal could it be?
New photo of the decayed body, allegedly.